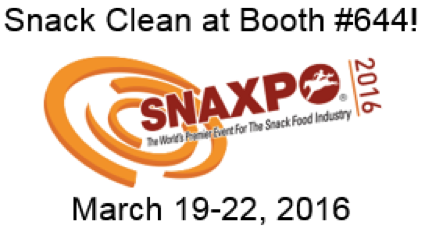 Come visit us at booth #644 for the Snaxpo Convention, held this year from March 19 through March 22 in Houston, TX. We have four Texas-sized flavors to try. Stop on by and have a tasty treat and give us feedback.
Orange Cheddar Flavored Popcorn – Cheesy cheddar type flavor that is also Non GMO project compliant. A new favorite in the CII library – around the office, folks ask for this more than regular cheese popcorn.
White Cheddar & Jalapeno Popcorn – Balanced cheddar type flavoring with the zing of fresh green jalapenos. This is also Non GMO project compliant – your mouth will ask for more of this savory, zesty blend.
Toasted Cinnamon Apple Multigrain Chips – Reminds us of the family recipe for apple cinnamon crisp that we looked forward to just after apple harvest. Sweet with warm cinnamon notes would make this an excellent addition to your flavor offerings. We paired this with an Organic Gluten Free Tortilla Chip containing flax, sesame, and sunflower seeds.. This is also Non GMO project compliant and a new favorite at CII!
Korean Bibimbap on Kettle Chip – Complete with signature gochujang flavor and other savory notes on a kettle chip allows this complex flavor to come forward. Asian flavors continue to be very trendy in 2016.