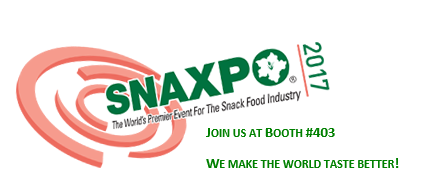 Join us APRIL 1-4, 2017 in Savannah GA, booth #403, for SNAXPO 2017. We will show four of our newest and most innovative seasonings which are perfect for tortilla chips, popcorn, and other snacks. Come see how we make the world taste better!

Apple & Roasted Cinnamon
Our Apple & Roasted Cinnamon seasoning is a sensational mix of sugar, vanilla flavoring, and spices. These ingredients are complemented by a crisp apple flavor, with a touch of warm cinnamon. This blend is NGMOP compliant, kosher, and is ideal for popcorn.
Mexican Street Corn (Elote)
Our trendiest flavor yet! This seasoning is a flavorful combination of sweet corn flavor, chili pepper, cream powder, with a light hint of lime. Parsley flakes are also included in this blend to create a lush green visual. This blend is NGMOP complaint, kosher dairy and is perfect for tortilla chips.
Organic Strawberry Beet
Organic Strawberry Beet is one of the newest additions to our growing organic catalog. We include sugar and vanilla flavoring, to go along with sweet strawberry and earthly beet flavors. In addition to being organic, this blend is NGMOP compliant and kosher. This is another seasoning that is great for popcorn.
Gouda & Bacon
This blend combines creamy gouda cheese with an amazing bacon flavor and a touch of smoke. This is a simple blend that you're sure to enjoy. Our gouda & bacon is a kosher blend that is a perfect match for potato chips.
Carolina Ingredients offers a large variety of customized snack seasoning blends. For more information and details, feel free to visit our website.